"The Earth does not hurry, yet everything is accomplished" – Lao Tzu
This may well be a very good day for the earth. Today marks the 50th Earth Day celebration. This annual tradition to promote environmental protection first started in 1970.
Today, amidst this global pandemic, people around the world are celebrating Earth Day, "Quarantine Style."
Today's ART is a T-shirt design by Tag All Team.
This will be a nice shirt to wear when you are talking your regular walk or run around the park closest to you. Remember, to wear a mask and stay at least 6 feet away from other joggers or families on taking their regular walks.
Of course, if like everyone else, you are staying home and helping flatten the curse, you would be cooking.
So, as a chicagohousewifey, here is an Earth Day recipe that your little ones will surely love.
This website may be familiar to you. This site has ads on Facebook and they should! Their recipes are easy-to-make, easy-to-follow and most certainly delicious. Their recipes are perfect for a chicagohousewifey, not a chicagohousewifey-in-quarantine.
So, without further ado, below is the recipe and link here. Enjoy, have fun and Happy Earth Day 2020, Chicago!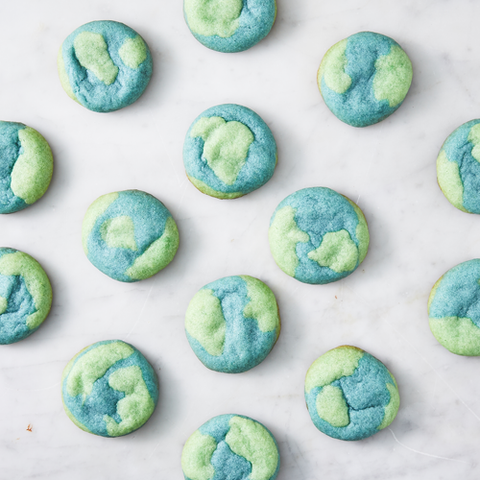 Ingredients
1  (17.5-oz.) bag sugar cookie mix
6 drops blue and green food coloring
Directions
Preheat oven to 375º and line two baking sheets with parchment. Prepare sugar cookie mix according to package directions. Place about 1/4 of dough in one bowl and dye green using green food coloring until desired color is reached. Dye remaining dough blue until desired color is reached.
Then, pull out pieces from each color and start shaping into a 1″ ball, patching if necessary to create an Earth effect.
Finally, place cookie dough onto prepared baking sheets and bake 8 to 9 minutes, or until edges are set. Remember that not all ovens are the same, so check your cookies after 5 or 6 minutes to make sure they are cooking properly. This will also give you an idea if you should be taking them out of the oven or keeping them there for the full 9 minutes.